GET TRUE CHRISTIAN LIVING TODAY!
Just CLICK HERE to get our latest softcover release, TRUE Christian Living, on our user-friendly "NEW Bookstore." In December, we will have available for purchase the eBook and audiobook versions of TRUE Christian Living, so stay tuned!
Also available TODAY for purchase are all three versions of our previous book releases, God's Gold & Glory Revolution, and TRUE Christianity!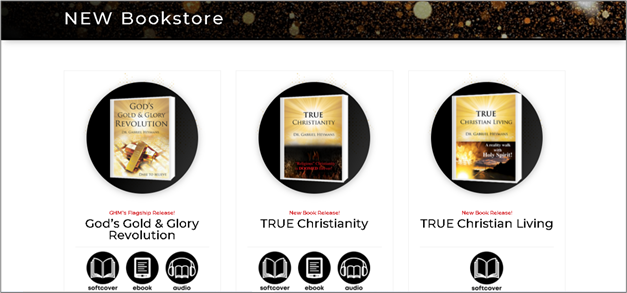 GOD'S SUPERNATURAL ASSISTANCE!
Over the last few weeks, we have shared with you in great joy about the ministry projects which the Lord entrusted to us this past year. This was the Lord's mandate to us for 2021: a time of restructuring every department of Gabriel Heymans Ministries!
It is with great excitement that initially we set out to complete this work, which was mostly led by my precious wife, Apostle Shellie. Personally, it was a thrill to see how all this work was accomplished by Apostle Shellie, along with Gay and Melissa, our awesome office staff team!
My part of the ministry continues to be our Sunday Broadcasts and our Weekly Insights e-news. The mandate which the Lord assigned to me pertained to the printed materials (books), bringing Apostolic revelation for God's plan in these last days.
Our Flagship Book – God's Plan Emerged:
In May of 2020, we published God's Gold & Glory Revolution, a 400-page detailed account of God's "Climax of the Ages," or as it's often referred to by the Church in general: God's end-time revival.
But instead of slowing down after the publication of God's Gold & Glory Revolution, the Lord began to quickly accelerate things. New revelations of truth began to come to light as we journeyed through 2020 and 2021.
After publishing such a sizable book, I did not think in my wildest dreams that any new publications would be necessary for at least a number of years.
TRUE Christianity – the Lord's Next Mandate:
During the early months of 2021, a stream of revelations just kept flowing to me from the Lord.
As a result, the Lord uncovered the entire system of "religious" Christianity, and we discovered that it's actually a system of "Antichrist" Christianity.
In the process of time, the Lord opened up the entire system of a false form of Christianity. This was followed by the Lord instructing me to write a new book, TRUE Christianity, exposing ALL the lies of Antichrist Christianity, and explaining ALL the truth of what is actually TRUE Christianity.
This is historic! This kind of thing has never happened before. All these revelations are happening NOW because we are prophetically living in the final years of the Church Age before Jesus returns!
TRUE Christian Living – The Urgent Follow-Up Book:
Around April of this year, the Lord instructed me to start working on the FIRE book, which I did so for a few months.
Then one day in my office, the Lord supernaturally showed me that a follow-up book to TRUE Christianity is something urgent and very necessary.
Thus, I began the journey of writing TRUE Christian Living, which is a book that for the first time explains in detail and in practical application of how to live the lifestyle of TRUE Christianity.
Today, we are humbled yet greatly excited since this past week we were able to publish this wonderful WORD from the Lord! As soon as I had completed the writing of TRUE Christian Living, I immediately switched over to continue working on the FIRE book. Consequently, I ended up requiring only 2 more months to finish the FIRE book.
We clearly see the Lord's SUPERNATURAL ACCELERATION in completing 3 new books by the end of 2021!
The FIRE book – the Crescendo of God's Mandate:
Here's the evidence of God's SUPERNATURAL help with the 3 book projects of 2021…
The Lord helped us to finish all 3 books in less than half the time that it would have taken us normally!
The copyright approval process of a book is approximately 3 months; however, we obtained the copyright for our last 3 books in only around 3 weeks.
Due to Covid, our printing company could not locate the necessary paper for the printing of TRUE Christian Living. Next thing we knew, the paper had arrived; however, the printing company was still struggling to find paper for their other clients.
Last week when we picked up TRUE Christian Living from the printing company, they told us they had not been able to find paper for the FIRE book.
The next morning, I was in conversation with the Lord, just thanking Him in simple faith for the paper we needed. I also requested of the Lord to have the higher quality paper (70 pound), which was also not available.
About one minute later, the printing company called to inform us that they had located the paper and that it was 70-pound stock!
These things may seem insignificant in the big scheme, but we have often experienced throughout this year the hand of God moving SUPERNATURALLY to help us complete EVERY assignment of His mandate!
We are REJOICING and THANKING God for all He has done for us this year, and for supernaturally providing all that's needed for these projects—not for us personally—no, they are specifically intended for YOU, His beloved Church. Thank you, Lord. What a mighty God we serve!
SUNDAY BROADCASTS — EXCITING CHANGE COMING!
During this season of change at GHM, we will soon transition our LIVE stream Sunday broadcasts from Facebook LIVE to YouTube LIVE.
Click this YouTube link to subscribe, and watch all the videos on our Gabriel Heymans Ministries TV channel.
STAY CONNECTED!
You can reap ALL of the glorious benefits God has for YOU by staying connected with GHM—anytime, anywhere—via the following ways:
As we accelerate on our journey together toward destiny, Gabriel Heymans Ministries is elated to introduce our new book: TRUE Christian Living! The moment you've been waiting for is HERE! Just click the image below to get your softcover version today, easily...
read more