Various Manifestations of God's Spirit!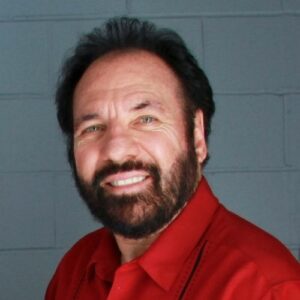 When Jesus completed His work on Earth, He ascended and is now seated at the right hand of the Father. Without Jesus, no salvation is possible.
Without Holy Spirit, no Christian lifestyle is possible either. Holy Spirit came to Earth to take Jesus' place until His return.
To list all the various manifestations of God's Spirit is impossible. From creating the universe, to raising Jesus from the dead, to imparting spiritual life into our spirit and interceding for us before the Father—these are just a few of the many different manifestations of Holy Spirit in our lives!
GOLD & GLORY FLASHPOINT 1:
Concerning Holy Spirit, the Church seems to focus on the outside, rather than looking on the inside. We look for signs, wonders, and miracles that we can see, but we overlook the greatness of God's Spirit living inside our born-again human spirit.
As human beings, the Church has always been sense-oriented instead of spirit-oriented. Again, we look around to see what God is doing physically in the earth, but for 2,000 years the Church has failed to connect with Holy Spirit inside our hearts. This is the reason why in our ministry we place such an emphasis on God's Spirit living within our human spirit.
If Jesus had not sent us Holy Spirit in His place, He would have simply turned Christianity into the next religion after Judaism! Since Judaism, the world has created over 4,000 religions. The human mind seems to love the doctrines, rituals, and teachings of organized religion, thus the reason for so many religions around the world.
Christian religion is the last thing Jesus had in mind for His followers when He returned to heaven. In John, chapters 14 to 17, we see how Jesus explained to His disciples how to have a personal relationship with Holy Spirit. God is ALL about relationship, and Holy Spirit is ready and waiting on us, the born-again Church—to experience our own personal relationship with Him.
In the Epistles, I find at least 50 outstanding prophetic promises yet to be fulfilled in the Church. Since we are living in the final years of the Church Era, we will soon witness all these outstanding prophetic promises come to pass. Most of these prophetic promises to the Church have to do with Holy Spirit raising us up to become the glorious The glorious Church will become the Church described in John, chapters 14 to 17!
Click to watch last Sunday's full broadcast, Surrounded by God's Glory! 11-20-22.
Click to watch this short video Spotlight: The Glories of Eternity! (2 Cor 4:16-18, TPT) 11-22-22.
We will come into the fullness of fellowship, closeness, and revelation of God's Spirit within our hearts. We will soon emerge as a Church who walks hand in hand with Holy Spirit in the same way Jesus had walked in close fellowship with His 12 disciples.
There is so much of what Holy Spirit wants to show us about Father, Jesus, and Himself. There are so many secrets of His heart to be revealed to the Church. There are such intensities of Holy Spirit's personal Presence that He wants us to experience in Him!
Refer to our book, TRUE Christian Living—TRULY the "how to" for living A REALITY WALK EVERY DAY WITH HOLY SPIRIT and experiencing the intensities of His personal Presence!!
GOLD & GLORY FLASHPOINT 2:
The first Church in Jerusalem was completely filled and saturated in Holy Spirit. During the Revival of the 90's, we witnessed a great deal of the outpouring of God's Spirit in the Church. There is NO limit to knowing, understanding, and experiencing Holy Spirit personally.

On the one hand, there is the outpouring of the Spirit like rain, fire, and glory.
On the other hand, there is this multi-faceted, close, and intimate relationship with Him to be experienced within our hearts.
Regarding the outpouring of the Spirit, there are still many signs, wonders, and miracles for us to experience in the last-day Revival!
Regarding Holy Spirit, there are at least 14 personal blessings reserved for us to experience with Holy Spirit in our hearts!

In our book, TRUE Christianity, you will find the list on page 69 of the 14 personal interactions between Holy Spirit and the believer. These are 14 things that Holy Spirit will do for us by walking in a personal and intimate relationship with Him!
The personal aspect of Holy Spirit in our lives is the most important aspect of Holy Spirit in the life of the believer. Since I met Holy Spirit in 1979, I have carried the message of John 14 to 17 to the whole Church.
Over the years, I have witnessed a number of Christians discovering Holy Spirit for themselves. Through this, their lives were changed forever! Holy Spirit became a personal reality, indeed a real Person of God to those who have discovered Him.
Today, it is unthinkable for me to even imagine how I could have lived all these years without this wonderful relationship with Holy Spirit. My prayer for all of God's children is to discover Holy Spirit as their personal friend. This relationship with Holy Spirit in our hearts will always help us to live in true Christianity, which is "experiencing" Him, not just "learning" the truth of Christianity.
Thank God the Lord will help us! During these final days of the Church, God will soon pour out His Spirit like never before—and millions of people will personally experience a breakthrough in meeting Holy Spirit personally in their hearts!
We are so excited that the Church will finally come into the FULLNESS of ALL that Christ has for us, including the FULLNESS of a TRUE relationship and SWEET fellowship with HOLY SPIRIT—until the day of Jesus' return!
Thank you Lord, the days of experiencing all of God's fullness here on Earth are now set before us (Ephesians 3:19)! Hallelujah!!
---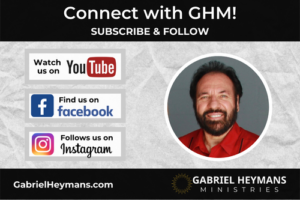 ---
FRESH GLORY!
"VIDEO" Spotlight with Apostle Gabriel, posted every Tuesday at noon ET on our YouTube channel and on our GHM website home page.
Watch the latest clip entitled:
Spotlight: The Glories of Eternity! (2 Cor 4:16-18, TPT) 11-22-22.
STAY CONNECTED…anytime, anywhere!